WE PROVIDE MODERN MODULAR SOLUTIONS TO SOLVE TODAYS CONSTRUCTION PROBLEMS
Modular Building Solutions Inc.
About us
Modular Building Solutions began operating in 2013. Our team brings a wealth of experience and qualifications in all facets of construction and material procurement. Each member provides the skills needed to coordinate and successfully meet the needs of various project requirements, such as single family homes, multi-family homes, commercial buildings, large scale residential housing, and First Nations housing.
We maintain in-house technical support and three installation crews that are experts in the assembly of modules, along with experienced crane operators that make things happen on site. Our site supervisors have relationships that enable us to meet or exceed Aboriginal Content requirements and other unique stipulations often encountered on project work. We cover Saskatchewan, Manitoba and North-West Ontario
Having been primarily focused on the RTM (Ready-to-Move) homes market prior to establishing Modular Building Solutions Inc., our team has a thorough understanding of the differences of RTM vs. Modular construction. We have found this to be an area filled with misconceptions not only on the part of the retail consumer, but by other industry professionals as well.
While RTM home construction does provide advantages over traditional site building, it also suffers from similar challenges because the work is still performed outdoors. A consistent level of quality becomes difficult to manage as volume increases, and the continuing shortage of quality tradespeople is an issue for RTM construction, just as it is for traditional construction.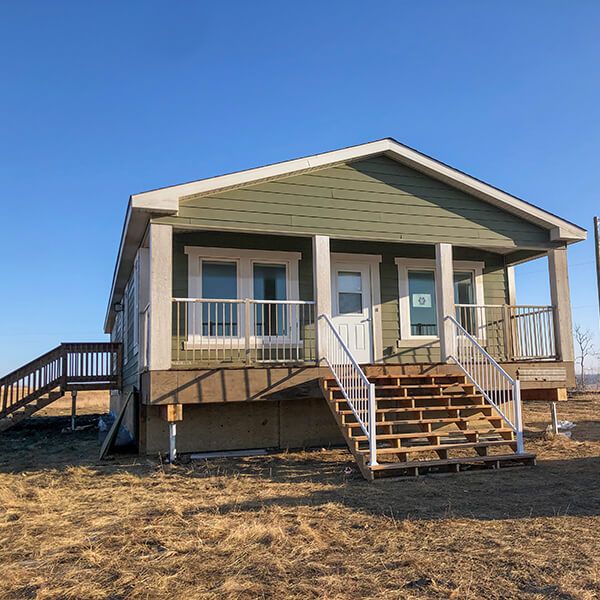 WHAT MAKES THE MODULAR PROCESS DIFFERENT?
Building System
Modular Building Solutions' modules are built under a precise, sophisticated system. Our process ensures superior construction quality management. Engineered to withstand the rigors of transportation, the modules are structurally stronger than conventional construction. Our stringent quality-control, inspection, and testing processes ensure the structural integrity of each and every module. The completed modules are then carefully packaged and protected for transport to your site. After the finishing touches are applied and site clean-up is complete, the home is virtually indistinguishable from a traditionally-built home.
Environmental Sustainability
In addition to the time-savings and quality control advantages, modular construction is a greener way to build. Sustainability is important to consider in today's designs, as homebuyers look for ways to reduce their environmental impact. Modular construction's controlled building process fits the bill: indoor warehousing eliminates material losses. Minimal waste is better for the environment. And because the materials are kept dry, your home's air quality is significantly improved: the risks of moisture damage is eliminated. Reduced site-disturbance also contributes to modular construction's sustainability: on-site traffic is kept to a minimum.
Fast!
Our modular buildings are built to meet or exceed the same codes and standards as conventional construction, but in much less time. Because the modules are constructed at the same time as the site and foundation are prepared, reducing total build-time is reduced by 30%, and in many cases, by as much as half. This translates into a faster return on investment.

Our services range from complete turn-key approach, to coordination with other service-providers, depending on our clients' requirements for a particular project
Jordan's Principle Building